Transient Treasures Exhibition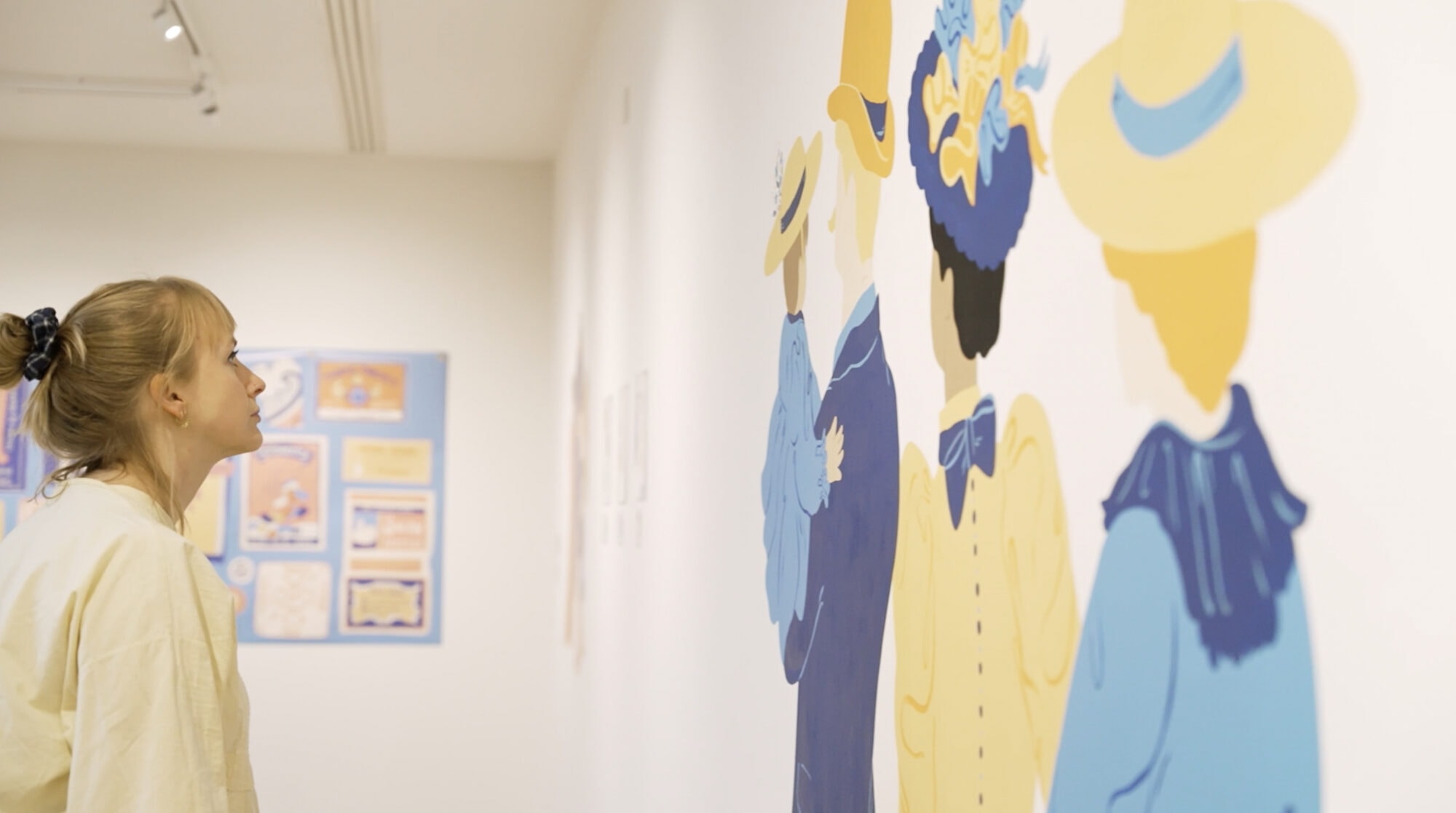 Client:

Craven Museum & Skipton Town Hall

Areas:

Community Engagement

Local Heritage

Credits:
Commissioned by Skipton Town Hall and Craven Museum, I designed and curated an exhibition seeking to showcase their ephemera collection.
Often perceived as difficult items to exhibit due to their text-heavy nature, the exhibition used illustration as a tool to make the ephemera archive more accessible and engaging. Through a variety of interdisciplinary mediums, I created bespoke illustrations to bring these stories to life.


-
ephemera
noun [ plural ]
UK /ɪˈfem.ər.ə/ US /ɪˈfem.ɚ.ə/
objects that, when they were produced, were not intended to last a long time or were specially produced for one occasion

-
'Ephemera' comes from the word ephemeral, meaning something that lasts for a short period of time. In museums and archives, some define ephemera as paper items that are meant to be thrown away after use, such as a ticket or leaflet.
Others suggest ephemera is not meant to last or is made for a one-off event. All seem to have an implied sense of being 'worthless', of being a transient thing. Pamphlets, tickets, and receipts can all be described as ephemera.
As visitors walked through the exhibition I hoped to challenge their understanding of what an item's value means and how that might develop over time. For example, a ticket that was once deemed rubbish or throw-away now has a wealth of stories to tell. Through this, I wanted to encourage an open conversation on how we perceive story-telling and challenge our interpretations of what has 'historic importance.'
Keen to showcase the Museum's diverse collection the exhibition is varied in context, content and period. Part of the joy of the ephemera boxes is the sheer spectrum of tales it has to tell. A box could lead you from a social dance to a ration book, from an anti-nuclear badge to a love letter. The exhibition hopes to recreate my experience of discovering these items and is a curated collection of items I found interesting.
I created bespoke illustrations to accompany the ephemera, seeking to bring to life the stories hidden behind each item.

Whether it is tales of hidden mice or social dances for mill workers, Craven Museum is full of stories. Although objects like Shakespeare's First Folio catch the public's attention, I was keen to delve behind the scenes and find different stories waiting to be uncovered. The ephemera collection caught my attention, providing an interesting take on Craven and how we can unpick stories through the ages.

'What do you have in your pockets?
Don't throw it away!'
Ephemera is almost a dying culture. As we move further into the digital age and rely more heavily on our phones, ephemera begins to disappear. Tickets turn into QR codes, letters into emails, and posters into social media posts….
A public interaction activity encouraged visitors to help preserve contemporary stories by contributing their own ephemera. We then collated these, creating a time capsule from 2022 that in years to come may be valuable in unpicking our own stories. By bringing the challenge to the modern day we further encouraged visitors to question their interpretations of value by giving their ephemera a narrative platform.
"We were impressed with the high quality of Ekaterina's work throughout the project – she interpreted the brief in an innovative and thorough way. Her engaging contemporary illustrations drew out hidden stories and provided an exciting reimagining of our museum collection for our audiences. It was a pleasure to work with Ekaterina throughout the commission and see the success of the exhibition with our audiences."

- Megan Hickes, Arts & Cultural Development Officer at North Yorkshire Council